Avert Your Eyes
What you are about to see below is scary. I almost crapped my pants when I saw this a few rows back, trying to figure out why things were starting to look a little wonky: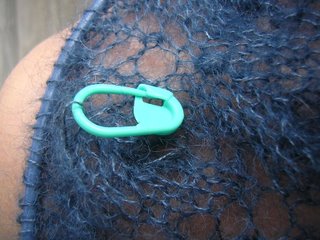 Of course, at the time, I didn't have the handy little marker to point it out, but it was quite obviously a dropped stitch. Lucky for me this is mohair, and it wasn't going anywhere on its own. Unlucky for me is that its mohair and tinking back and/or frogging 4 many, many-stitch rows would take virtually all my knitting time for today and tomorrow together.
Now, all you race spectators have figured out that we're all maybe a tiny bit crazy to be doing this. If Cheryl were taking votes on who's the craziest, I think I might be the front runner after you see what I did: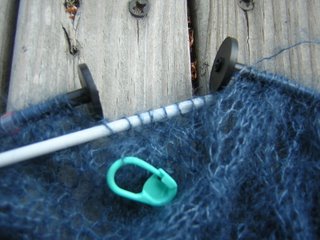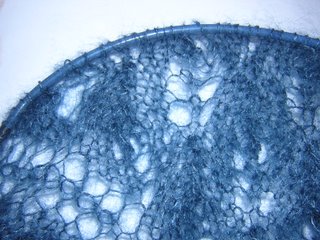 There is still a touch of wonkiness with the YOs, and I need to tug and pull my "re-knitting" to even them all out, but my stitch count is accurate and the pattern lines up now. What all the craziness means is that I STILL made progress between last night's update and now (not much, but some) and I still have an evening of knitting ahead of me. PHEW!!